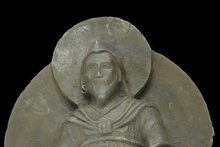 The thousand year-old ancient Buddhist statue was thought to be carved by a rare class of iron meteorite. Photo / AFP
A thousand-year-old Buddhist statue taken from Tibet in 1938 by an SS team seeking the roots of Hitler's Aryan doctrine was carved from a meteorite, scientists have reported.
In a paper published in an academic journal, German and Austrian researchers recount an extraordinary tale where archaeology, the Third Reich and cosmic treasure are intertwined like an Indiana Jones movie.
Called the Iron Man because of the high content of iron in its rock, the 24-centimetre-high statue was brought to Germany by an expedition led by Ernst Schaefer, a zoologist and ethnologist.
Backed by SS chief Heinrich Himmler and heading a team whose members are all believed to have been SS, Schaefer roamed Tibet in 1938-9 to search for the origins of Aryanism, the notion of racial superiority that underpinned Nazism.
Weighing 10.6 kilos, the statue features the Buddhist god Vaisravana seated, with the palm of his right hand outstretched and pointing downwards.
Chemical analysis shows that the rock from which it was carved came from a meteorite.
Read more:
http://www.nzherald.co.nz/space/news/article.cfm?c_id=325&objectid=10836813